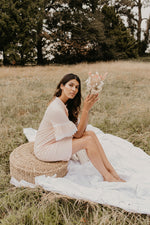 That fresh spring air: discover our season essentials!
We have been through a lot together over the past year. Hence why there's something quietly reassuring in the cycles of nature as spring and summer make their way into focus. Her presence provides us with some much-needed certainty and allows us to grow, bloom and connect.
This newfound knowing of all that matters most is exactly what inspired us to carefully design our Spring Summer 2021 collection. It lies particularly close to our hearts, as it embodies the new depths of who we've become as individuals and as families.
From your bedtime stretch and noon cappuccino to your breezy walk on the beach: we've got remarkable essentials we believe you'll adore. Follow along as we walk you through a beautiful sunny day, wearing our season pearls!
Rise & SHINE!
Wakey-wakey! No snooze button today, as the birds started chirping and the bright morning sunshine came peeking through the curtain gaps! Mmm…the smell of fresh brewed coffee. You've delayed your shower – it'd be a pity taking off your gorgeous nightwear so soon. That's right: you feel like a million bucks hopping from your bed to your kitchen in your heavenly soft attire.
Discover the rest of our nightwear collection here!
From home to beyond
Just before it'd be a crime to still be wearing your pyjamas, you proudly switch to your home attire. But can you really call it that? After all, it's carefully designed to cater to your unique versatility as a woman - switching roles left and right and hopping from inside to outside. You're at ease, but with a highly luxurious feel. You radiate pure simplicity, but with eyecatching details. Effortless. Elegance. Power.
Discover the rest of our nightwear collection here!
Sandy toes, breezy wear
A slow, relaxing morning filled with good reads, finger-licking brunch and chitchats with the ones you love most: the tone is set. However, a blue-skied day wouldn't be complete without a trip to the beach. Time for the sun to kiss your skin and your hair to get salty! On the outfit menu? A breezy, flirty and timeless dress to gracefully pair with your bare feet!
We've got more beach treasures – discover them here!


As the last grains of sand are brushed off of your dress, a cold glass of wine awaits you. The perfect sunset. It's been a flawless day - one you're undoubtedly framing the pictures of, as they'll immediately conjure a smile to your face. Longing to make more spring summer memories? Allow our refined, quality pieces to complete them! SS21 – consciously celebrating the cycles of nature. Now at Alice et Maman.